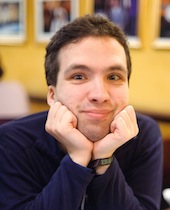 Howdy!
My name is Sai. (Yes, just Sai.)
Here because of the Klingon / Axanar case? See our list of press (w/ interviews), or the two conlangs I co-created: a non-linear two-dimensional written language and a gripping language.
I'm working on Make Your Laws, a practical project to turn governments into liquid democracies.
I make CogSai (a YouTube series on cognitive science), help run the Language Creation Society, hack things, give talks, and occasionally consult.
I'm also suing the TSA for their practice of violating the rights of disabled travelers and refusing to comply with the Freedom of Information Act & Privacy Act.
I primarily blog on Google+, though I can be reached through Facebook & Twitter also.
Let's chat.
I enjoy things like:
making engineered languages (e.g. non-linear and gripping languages)
making things (e.g. web apps, clothes, chainmail, weird food)
meditation, metacognitive qualia, magic, worldview multiplicity, Discordianism
sapiosexuality/skoliosxuality, polyamory, non-genderedness, hedonism