Privacy Protection Act stickers
© SaiCorp, Inc. 2016, licensed CC by-nc-sa

The Privacy Protection Act (PPA) is a US law that prohibits ordinary law enforcement searches of materials intended for public dissemination, e.g. by citizen-journalists.
However, in order for you to have the protection of the Act, the person wanting to search your items has to know that they contain materials intended for publication.
So here's a simple solution: stickers you can use to easily label your notebooks, computer, smartphone, etc.
If you want to learn more, read EPIC's site about the Privacy Protection Act.
Go to the "privacy protection act stickers" collection and pick what you like.
There are two basic designs (tailored to each size and shape):
Simple:


Detailed: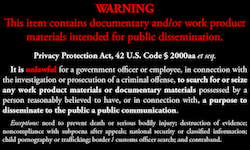 … and they're available in the following shapes & sizes, with both black and white options:
Label: 0.75x2.25"
Rectangle: 4.5x2.7"
Square: 3x3"
Large circle: 3" dia.
Small circle: 1.5" dia.
Of course they're open source
These images are licensed Creative Commons attribution-noncommercial-sharealike. Basically, give me credit, don't make money off it, and share any derivative you make under the same terms. Contact me if you want a different licensing arrangement.
Legal
These are owned, published, and sold by SaiCorp, Inc.
There is no warranty whatsoever. Use at your own risk. I am not a lawyer (nor is SaiCorp a law firm) — and sure as hell not your lawyer. This is not legal advice or opinion. If you think your rights have been violated, hire your own lawyer.